Lip fillers and plumpers are popular throughout the year, but many women tend to be thinking about their lips as Valentine's Day approaches. After all, the average person spends two weeks kissing during their lifetime, according to statisticbrain.com.
Research shows that worldwide, 90% of people kiss on the lips. Each kiss, if it lasts a minute, could help you burn 26 calories.
One of the biggest days for kissing and love is just around the corner, and you're probably already thinking about how to look and feel your best for the romantic occasion.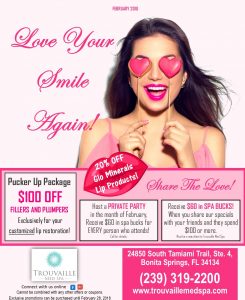 Since lips play such an important role in our love life and have a big impact on our appearance, many turn to fillers and plumpers for fuller, smoother, more luscious lips.
More than 27,000 lip procedures took place in the U.S. last year, with a lip procedure being performed every 20 minutes — a new record.
With all the emphasis on lips in love and looks, you may be wondering what options are out there. Trouvaille Med Spa is here to help.
We are even offering a "Love Your Smile Again" special for February at Trouvaille Med Spa in Bonita Springs, FL.
The "Pucker Up Package" will get you $100 off fillers and plumpers, so if you've been thinking about having fuller lips, now's the time to do it! Maybe you recently bought your favorite lipstick brand in your Dream Color and wish your lips were just a little bit bigger to make it really stand out.
Whatever your wishes, our team will customize your lip restoration to make sure you achieve the best look.
Lip Fillers
We offer several options, and our team will explain the best for you as well as answer any questions you may have.
For instance, Juvederm Volbella XC is the first and only FDA-approved filler proven to increase lip fullness and soften the look of vertical lip lines for up to a year!
This is a good option if you only want to subtly increase the fullness of your lips but still change your overall appearance.
If you want a bolder look, we can use Restylane Silk. The FDA-approved treatment will plump your lips and fill wrinkles around your mouth, such as smoker's lines.
Trouvaille also has some options for improving your skin. Hyaluronic acid fillers may sound painful, but there's minimal discomfort! These fillers are injected into areas of facial tissue where moderate to severe facial wrinkles and folds occur.
They'll also add temporary volume to the skin and may even make it look smoother. Softer versions of these fillers can be used in the lips, while the sturdier ones can enhance the cheekbones, for example.
Best of all, the results can last well after Valentine's Day — up to a year!
The "Pucker Up Package" is available until Feb. 28.
If you're not sure whether these services are good for you, or if you just want to see how it works, Trouvaille Med Spa always offers free consultations. Give us a call at 239-319-2200.