SkinPen® treatments can help you look younger by reducing wrinkles and fine lines as well as helping repair damaged skin.
This only FDA approved microneedling device offers a non-surgical method to target delicate areas around the nose and mouth and give you smoother, younger looking skin.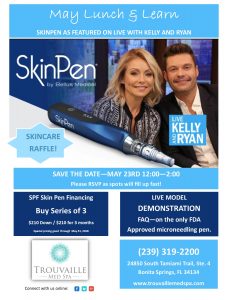 SkinPen® is an automated microneedling device for medical professionals that creates hundreds of microscopic channels in the skin to stimulate natural production of collagen and elastin. The result is skin that looks and feels healthier.
The procedure can be used on all skin types and requires little downtime. Most patients say they feel a slight vibration or tingling sensation.
SkinPen® benefits
There are many benefits to SkinPen, including:
• Effective for all skin types
• Little to no downtime
• Short procedure time
• Minimally invasive
About 90% of subjects in a clinical trial said they would recommend SkinPen treatments to friends and family, according to SkinPen.
There has been quite a bit of media coverage on the Skin Pen. It was featured on LIVE with Kathy & Ryan, Good Morning America, ABC News and the View among others.
Trouvaille Med Spa is hosting a Lunch & Learn on SkinPen. The event will be from noon to 2 pm on May 23rd at their Bonita Springs location. The address is 24850 S. Tamiami Trail, Ste. 4.
During the program, guests will enjoy lunch, have the opportunity to watch the SkinPen in action and learn about the benefits of SkinPen and how it works. There will be a raffle entry for the first 20 who RSVP (a $200 value). Seating is limited, and an RSVP is required. Call 239.319-2200 to reserve your spot.